This article shows you how to protect your assets from external online threats such as scams or malware.
Note
: It is important to note that cryptocurrency transactions cannot be reversed or recovered. The person who controls the address your cryptocurrency has been sent to is the only person who has access to the cryptocurrency and who can send it back. If the person cannot be found or refuses to return the cryptocurrency, there is no way to get it back.
The "Send 1 coin, receive 5 coins" scam
Scenario: Impersonators make it seem like they are the real owners of popular social media accounts such as ours.They copy posts and generally try to convince unsuspecting users of their content's authenticity. Sometimes, impersonators also try to contact people directly on behalf of the company they are pretending to work for, making unlikely offers such as "send 1 ETH and get 5 ETH back." If the transaction were to be carried out, the coins sent to the scammer's address would then unfortunately be lost.
The scam tends to look something like this: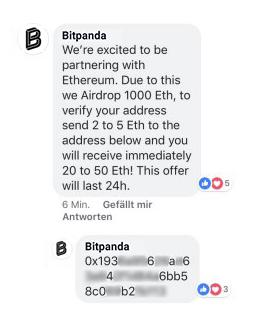 Red flags: This is one of the most common scams on social media. If it sounds too good to be true, it probably is. Normally (but not necessarily always), the offending account will post in the comments section or as a reply underneath a legitimate company post. It's important to know that Bitpanda will never do a giveaway of this nature. Bitpanda will never ask you to send cryptocurrencies anywhere for you to multiply them.
Social media scams (Twitter, Telegram, etc)
Scenario: Someone posts a great offer in the comment section under a legitimate post or reaches out to you via direct message to offer you help with an investment opportunity. Please be aware that this is most probably a scam.
Red flags: Someone posts an inviting offer in the comment section of a legitimate post or contacts you via direct message with a great investment opportunity. On Twitter, the verification badge of the account is missing; on Telegram, the user's handle does not match Bitpanda's handles.
Tip: Verify the identity and legitimacy of any individual who contacts you about an investment. These are the links to Bitpanda's verified social media channels: Facebook, Discord, Twitter, Instagram and here is the link to our official Telegram groups.
Also, have a look at the
frequently asked questions about Bitpanda's social media channels
and make yourself familiar with the information below.
Note:
Always look for the badge on Twitter and Facebook and compare the handle.
Keep your eyes open for the verification badges on social media sites such as the grey verification badge on Facebook and the blue verified badge on Twitter. They look like this: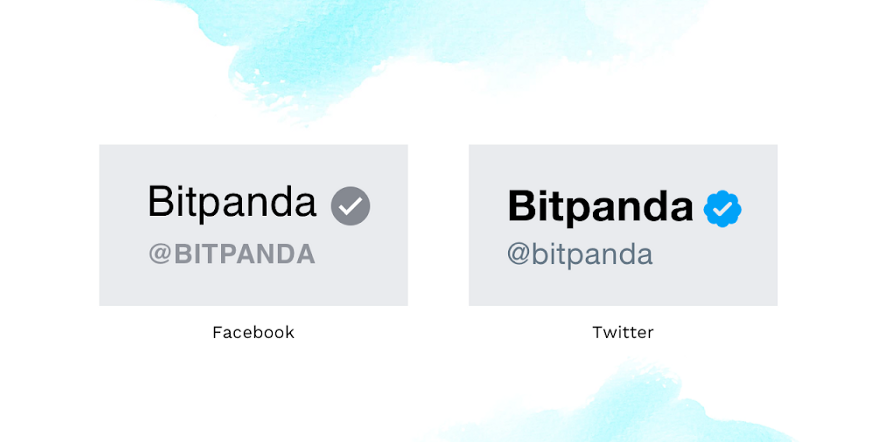 As a rule, you should generally exercise proper judgement on the web and not trust accounts with little content and followers who could be up to no good.
On social media platforms such as Twitter, your @username or handle is entirely unique, meaning that only one account can have it at a time. Therefore, you can be sure that if an account is not @bitpanda — it is definitely not us. This is a 100% safe method to verify that you're dealing with us.
Tip: Don't get scammed on Telegram.
If you are going to make use of Bitpanda's official Telegram groups then it's important that you know who the real employees are. You can recognise official Bitpanda staff members by the grey "admin" phrase on the right side of their name.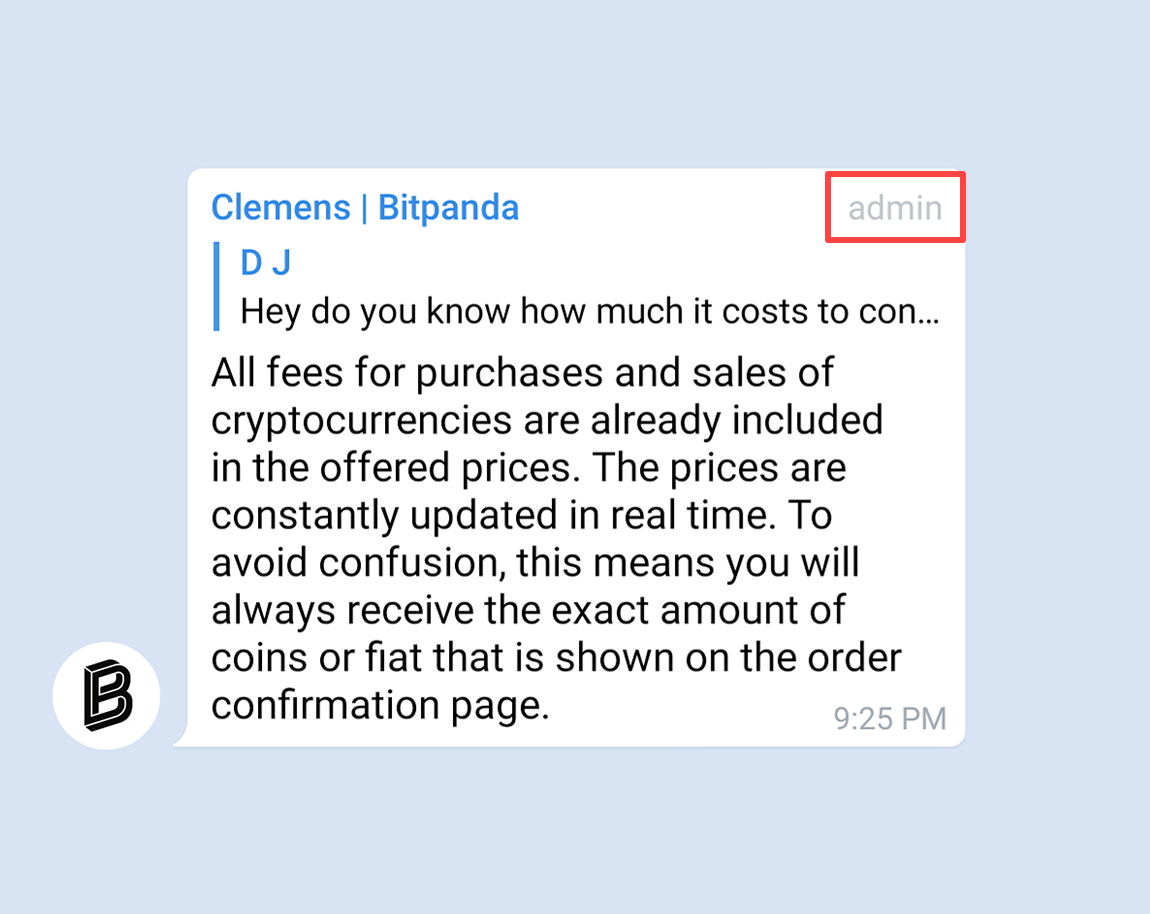 You can also check the bio and the so-called "handle" (@clemens_bitpanda) by clicking on the user's icon.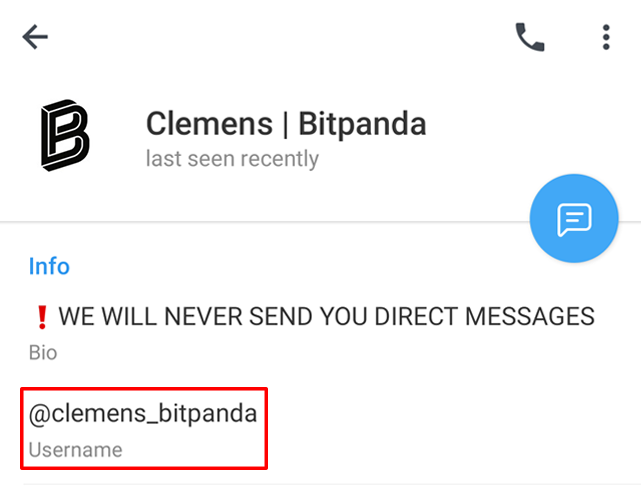 Official Telegram admins
Here is a list of verified Bitpanda staff who are active in our groups:
@christian_bitpanda

@max_pantos

@hatice_bitpanda

@eda_bitpanda

@jeff_bitpanda

@flo_bitpanda

@theresa_bitpanda

@john_bitpanda

@david_bitpanda
There may be other admins, but they are not in charge of support.
Official Telegram moderators
You can recognise moderators by the grey "Moderator" phrase on the right side of their name.
Moderators support the community by answering questions and providing assistance. They are not official Bitpanda employees, but active members of the community who would like to support us with their help. If you also want to become a moderator, please contact us via our contact form. Be as active as possible in the community and help other members by answering questions.
Currently, the official moderators are:
@marcel_pantos

@IOTAGOD

@p_h_i_l

@IxeYgrek

@deletespam

@tilpan

@bertolomaeus

@Der1Wolf

@oue_st

@salvyni

@GiazFav

@Antje0172
Romance scams
Scenario: Someone you met on a dating platform asks for money, financial details or other personal credentials. This person "has" a rich relative or someone that works in an investment company who can help you to earn money. This person asks you to pay for their plane tickets, hotel stay, health issues, etc.
Red flag: You have not met this person in real life or seen them via webcam. You do not know much about this person and you only see the same pictures. This person asks you for financial details and to pay for something for them.
Tip: Do not send money to someone you met on social media or a dating platform.
Mining scams
Scenario: You come across a mining service that asks you to send BTC (or other coins) to start earning. You might also be asked to buy a private key.
Red flags: If it sounds too good to be true, it probably is. You will also probably be promised high return rates. Additionally, you might come across a number of fees, such as activation fees for mining or wallet activation fees. It is very likely that the website does not reveal the site's domain, but instead uses acronyms. Moreover, the website often lacks essential content such as photos and information on mining facilities.
Tip: Understanding how mining works will also help protect you from falling victim to common crypto mining scams. To learn more about the topic check out our

dedicated lesson on Bitcoin mining at the Bitpanda Academy
.
When it comes to crypto mining investments, similarly to the cases on social media, there is a possible risk of encountering scam activities. For example, in cases where there is a guaranteed profit in advance, it's worth being extra careful. Crypto mining is a rather complex process, where calculations for the exact return are almost impossible.
It is wise to consider choosing well-known and trusted companies from the industry. Just as in other areas, instead of solely relying on online reviews, it's beneficial to do your own research or use due diligence to get to know the other party.
Investment scams
Scenario: An alleged friend of yours, someone you do not know or a company sends you information about a new coin to invest in, and you need to use Bitpanda to make the best out of this opportunity. You are asked to pay a fee in advance or to send money as soon as possible, and you are promised no withdrawal fees.
Red flags: The company contacts you out of the blue and pressures you into investing. It sounds too good to be true and like a get-rich-quick scheme. If someone reaches out to you on social media, remember that people you meet online who offer you financial services, profits or affiliate links are usually fraudsters.
Tip: Before investing in cryptocurrencies, please keep in mind that it is important to gather sufficient knowledge about the topic. Also, please be wary of advice from people you do not know, and perform investments under your own judgement and through your own willingness. Make sure you understand the investment you wish to go into and read the contract, the small print on the website of the investment opportunity and the reviews online.
Employment scams
Scenario: You get a fake job offer from Bitpanda or another company to work remotely, and for that you are asked to create a Bitpanda account. Usually, scammers say that you will work as an account manager and you will be redirecting the money to assigned customers. Another popular scenario is registering an account to participate in a fake software video capturing test. Please beware — you are about to become part of a money laundering scheme.
Red flags: An employer asks you to sign up for a Bitpanda account and transfer money through your personal bank account to Bitpanda. The email or message you receive will often contain textual mistakes, and the email address does not match the company's email address. The scammer might also ask you to provide confidential information.
Tip: If any third-party asks you to sign up for a Bitpanda account, please stop communicating with them, do not proceed with the registration and report it to us. If you are unsure whether a job offer is legitimate or not, have a look at our job application checklist.
Money recovery scams
Scenario: You have lost money in a scam in the past and someone contacts you to help you recover it. However, in order to get your funds back, you must pay first. This is known as a "double scam", and the people who stole your money are often the same people who pretend to want to help you recover it. These scammers operate on the premise that if you were scammed in the past, you are more likely to fall for a scam again. Usually, in exchange for a fee, scammers will contact your credit card provider to dispute the money you lost. Please keep in mind that such services are mostly free of charge and all it takes is one call to your credit card provider to file a dispute.
Red flags: Someone contacts you regarding money you have lost in the past in a scam and offers to help you recover it, but you need to pay a fee in advance. The scammers hold your personal information and details about the loss of your money. Remember—if it sounds too good to be true, it probably is.
Tip: Do not communicate with the scammer.
Merchant scams
Scenario: You want to order something specific online because it looks like a great deal, however, the payment has to be done in BTC or through Bitpanda, and there are fees that need to be paid in advance.
Red flags: Complaints, negative reviews, and having to pay in BTC for goods might indicate that you are dealing with a scammy company. The merchant asks you to send money through a third party or a system you do not know. Very often, there is no customer support or proper website.
Tip: Always check the reviews on the merchant's website and online on Google and Trustpilot. Also, check their social platform.
Support scams and Bitpanda impersonators
Scenario: You get a phone call from someone impersonating a Bitpanda employee asking for a connection to your device or telling you to pay a fee so that you will be able to deposit money. You may also receive a phishing email that prompts you to log in to a fake page or to open an attachment.
Red flag: Someone pretending to be a Bitpanda employee contacts you and asks you for access to your device, credentials, passwords, fees or payments and that you need to pay for those services in crypto.
Tip: Do not give anyone remote access to your device and do not share your login details with anyone. If you received an email, do not open any links or attachments.
Please keep the following points in mind:
Bitpanda can call you for specific reasons, but we will inform you about it in advance via email. Please note that we will never ask for your credentials or passwords, payments, fees or access to your device. If you are unsure who contacted you, you can always double-check by contacting us

via our contact form

Bitpanda does not offer active phone support, so you will not be able to call us. We do not operate through WhatsApp or private chats on Telegram. Please make sure to reach out to us via our contact form or on our official channels

Bitpanda does not offer remote tech support. If someone who claims to be from Bitpanda reaches out to you and asks for access to your device, be careful, as this is definitely a scam, especially if you are asked to pay for those services in crypto. Often, fraudsters use a remote desktop application to access your device

Bitpanda does not employ account managers, tax advisors, miners, bank representatives, agents, mentors or brokers to help their customers. Also, Bitpanda does not invest on your behalf
Note:
Bitpanda will NEVER ask for your personal information anywhere.
Legitimate organisations will NEVER ask for your important login credentials or sensitive data but there are those out there who will try.
Phishing is the fraudulent practice of sending messages purporting to be from reputable companies to make people reveal personal information: this could be credit card numbers, passwords, secret keys etc. Sometimes, phishers will even clone a website to look identical to the original in order to steal your data. So when visiting Bitpanda, make sure to check the URL looks like this:

You can click on the padlock on the left to see the website's certificate information. You should see this: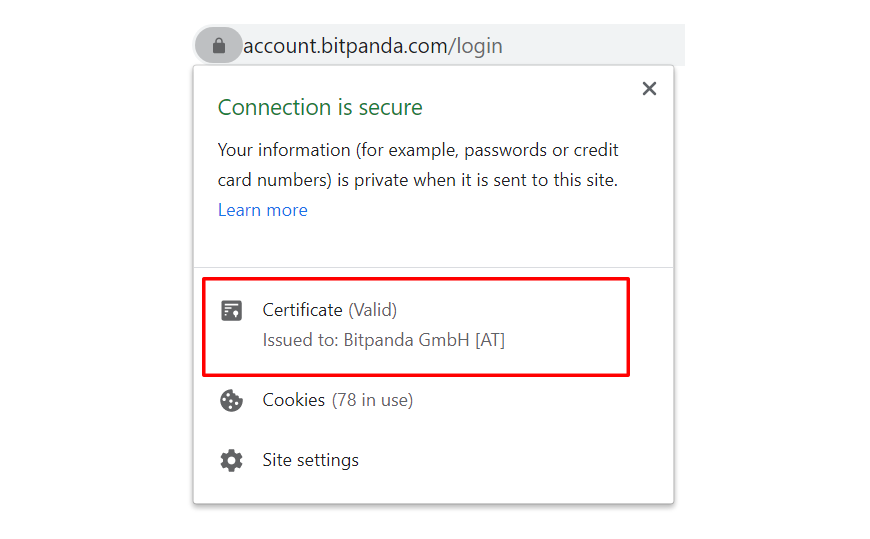 You should also be wary of questionable downloads and not click on strange attachments or links in emails. This could well be malicious "mining' software that ,  at first,  claims to do one thing but actually gains access to your device in the background. Once they have gained access, hackers could potentially see what you are typing with keylogging software, subsequently revealing passwords or codes. They could even make screengrabs and see what you're currently doing.
Note:
If a wallet address was given to you by another individual or company, then that is not your wallet.
If you think a fake Bitpanda employee contacted you, reach out to us.
Tech support scams
Scenario: You see a pop-up warning that says your computer has a virus and you need to call support. You may also receive a phone call from someone who pretends to work for a tech company, such as Microsoft, saying they have found problems with your computer that need to be fixed. The scammers ask to access your device and to be paid in BTC for their services.
Red flags: Your computer supposedly has a virus and you need tech support to help you fix it. The scammers need access to your computer and they ask you to transfer money or pay in BTC.
Tip: If you receive a pop-up warning about the security of your device, please always check its authenticity. If someone calls you about a problem with your computer, hang up. Do not share your password with or give access to your computer to anyone.
Warning lists
Scams that are publicly known and have already been reported can be found via these links:
General red flags
The information above should already help you better identify scammers, but here are some general red flags to watch out for:
Someone you met online or someone you do not know reaches out to you with an investment opportunity

The investment opportunity seems too good to be true

A person contacts you claiming there is an issue with your computer and they need to access it to help you fix it

The sender's email domain does not match with the company's registered email domain. For example, @gmail.com instead of either @bitpanda.com or @bitpanda.zendesk.com

The email you receive has a number of typos, links and attachments. Please do not click on any links, do not put in any of your personal information anywhere and do not open any attachments

The email you receive stresses urgency and that immediate action is needed
General tips to avoid scams
Our guide can only help you to a certain degree, but as scammers continuously find new ways to trick people, here are some general tips to keep in mind:
Use reliable web sources to check the validity of the person/organisation who contacted you, the website or/and the investment

Do not allow remote control access to your device (Anydesk, Teamviewer, etc.)

Do not share your password and login details

Do not share your financial information (this includes card numbers, banking information, etc.)

Do not blindly answer to unsolicited investments and opportunities that stem from calls, emails or private messages

Do not blindly trust someone you met online; profiles, pictures and phone calls can be easily faked

Do not create a Bitpanda account on third-party recommendation or request from unknown people or people you don't trust.

Do not make quick financial decisions under pressure or because someone is threatening you
Be sceptical and always double check
Finally, just be sensible on the web. Make sure to stay up-to-date with the latest scams as scammers are constantly finding new ways to trick users, often going to great lengths to do so. Be cautious with every click and never disclose your sensitive data to anyone online. If you were a victim of a scam or you wish to report a scam attempt connected to your Bitpanda account, please contact us and report the incident to the police. They can contact us and request the information needed for a formal investigation.