If you are having difficulties with the reCAPTCHA, this guide provides solutions to the most common issues.
Tip: If you have a Google account log in to that first, so you will not have to select the pictures of the reCAPTCHA.
Web App (Desktop)
On the Web App please enter your email address and password at https://web.bitpanda.com/user/login.
Mobile App (Android)
On the Mobile App please enter your email address and password on the login screen.
Procedure
You will get a picture shown, with a challenge to solve by clicking the parts requested. Until all the images are selected or no new ones appear. Then click on Verify or Next. If none of the parts match the description click on Skip.
It is possible, that you have to complete the process multiple times.
You can also request a new challenge by clicking the reload icon at the bottom left
You also have the possibility to change to an audio challenge by clicking on the headphone icon

For help click the help icon

If the reCAPTCHA is not loading, a restart of the internet connection could also help
Example
Examples of reCAPTCHA challenges are "Select all images with bicycles" or "Select all images with taxis". Here is an example: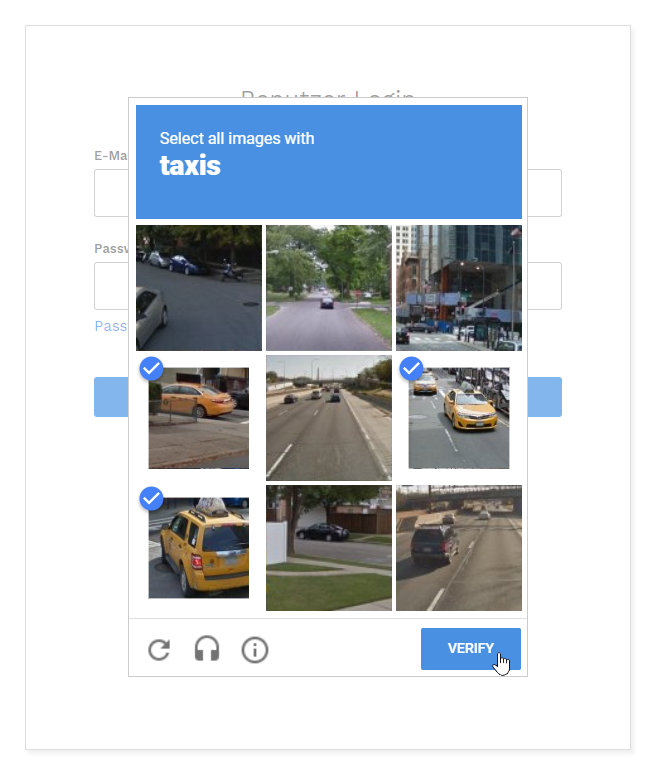 To complete the process click on Verify.
After completing the reCAPTCHA you are able to log in to your account.
Unfortunately, there is no alternative for the reCAPTCHA. Please note that this is a security feature, especially to prevent unauthorised access to your account.
Tip: The reCAPTCHA won't appear on each login.