In the article How can I secure my Bitpanda account? we explain what you can do to make sure that your account stays as safe as it can be with measures such as two-factor authentication (2FA) and using strong passwords. In this article, we're going to build on that and explain how you can protect your assets from external threats that you might encounter online such as scammers or malware.
The "Send 1 ETH, receive 5 ETH back" scam
Impersonators of popular accounts (like ours) act like the real accounts on social media, they copy posts and generally try to convince unsuspecting users that they are the real account. Sometimes, they also try to contact people directly on behalf of the company they are impersonating making unlikely offers like "send 1 ETH and get 5 ETH back." Unfortunately, lots of people fall for this scam and lose their coins to the scammer's address.
The scam looks like this: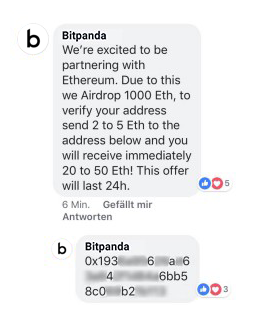 An easy-to-remember rule is: "If it sounds too good to be true, it probably is."
Normally (but not necessarily always), the offending account will post in the comments section or as a reply underneath a legitimate company post. It's important to know that Bitpanda will never do a giveaway of this nature.
These are the links to Bitpanda's verified social media channels: Facebook, Twitter, Medium, Instagram and here is the link to our official Telegram groups.
Look for the badge on Twitter and Facebook and compare the handle
Keep your eyes open for the verification badges on social media sites such as the grey verification badge on Facebook and the blue verified badge on Twitter. They look like this: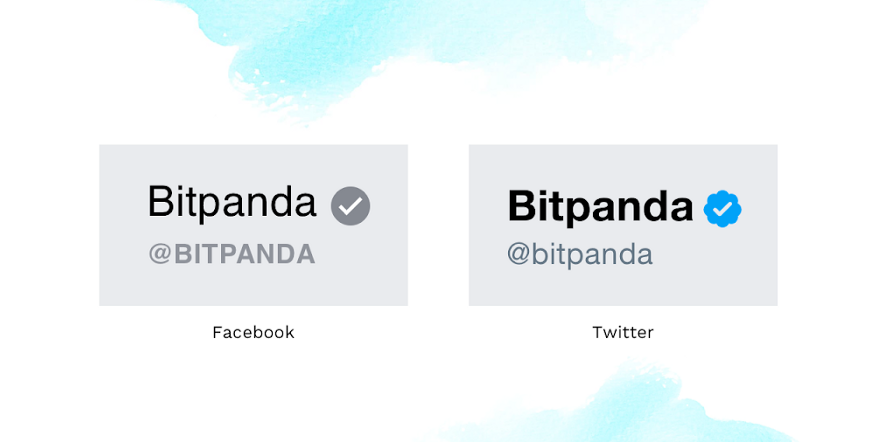 As a rule, you should generally exercise proper judgement on the web and don't trust accounts with little content and followers that could be up to no good.
On social media platforms such as Twitter, your @username or handle is entirely unique, meaning that only one account can have it at a time. Therefore, you can be sure that if an account is not @bitpanda — it's definitely not us! This is a 100% safe method to verify that you're dealing with us.
Don't get scammed on Telegram
If you are going to make use of Bitpanda's official Telegram groups then it's important that you know who the real employees are.
You can recognize official Bitpanda staff members by the grey "admin" phrase on the right side of their name.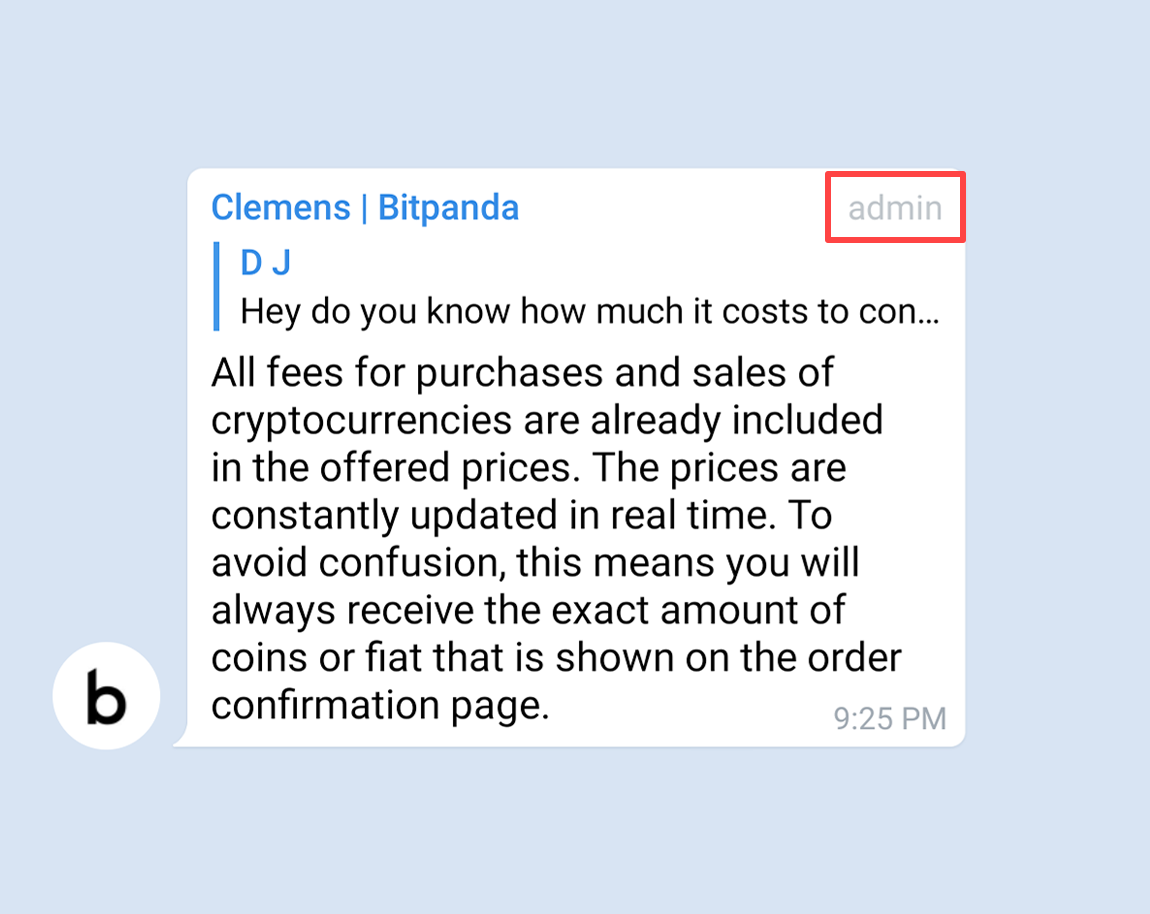 You can also check the bio and the so-called "handle" (@clemens_bitpanda) by clicking on the user's icon.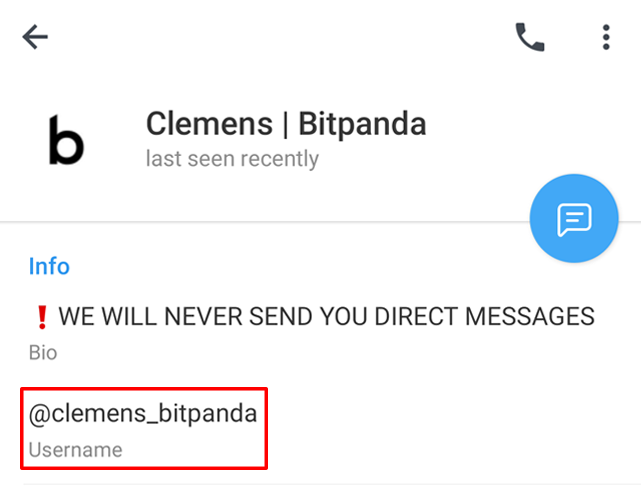 Official Telegram admins
Here is a list of verified Bitpanda staff who are active in our groups:
Clemens | Bitpanda @clemens_bitpanda
Philipp | Bitpanda @philipp_bitpanda
Michael | Bitpanda @michael_bitpanda
Valentin | Bitpanda @valentin_bitpanda
Marc | Bitpanda @marc_bitpanda

Christian | Bitpanda

@christian_bitpanda

Dennis | Bitpanda @dennis_bitpanda

Milan | Bitpanda @milan_bitpanda
Eva | Bitpanda @eva_bitpanda
Raphael | Bitpanda @raphael_bitpanda
Terry | Bitpanda @terry_bitpanda
Max | Bitpanda @max_bitpanda
There may be other admins, but they are not in charge of support.
Official Telegram moderators
You can recognise moderators by the grey "Moderator" phrase on the right side of their name.
Moderators support the community by answering questions and providing assistance. They are not official Bitpanda employees, but active members of the community who would like to support us with their help. If you also want to become a moderator, please contact us via our contact form. Be as active as possible in the community and help other members by answering questions.
Currently the official moderators are:
Marcel | Pantos @marcel_pantos

Pele @IOTAGOD

Ixe Ygrek @IxeYgrek

Phil @p_h_i_l

Michael @deletespam

Tilman @tilpan

PickNick @Picknick81

ali @bertolomaeus

Bernhard @Der1Wolf
Mining scams
When it comes to crypto mining investments, similarly to the cases on social media, there is a possible risk to encounter scam activities.
The same rule applies here, if it sounds too good to be true, it probably is.
For example, in cases where there is a guaranteed profit in advance, it's worth being extra careful. Crypto mining is a rather complex process, where calculations for the exact return are almost impossible.
It is wise to consider choosing well-known and trusted companies from the industry. Just as in other areas, instead of solely relying on online reviews, it's beneficial to do your own research or use due diligence to get to know the other party.
Understanding how mining works will also help protect you from falling victim to common crypto mining scams. To learn more about the topic check out our dedicated lesson on Bitcoin mining at the Bitpanda Academy.
Support Scams
Bitpanda doesn't offer remote tech support. This means if someone - claiming to be from Bitpanda - reaches out to you and asks for access to your device, be wary, since this is definitely a scam, especially if you are asked to pay for those services in crypto.
Bitpanda will NEVER ask for your personal information anywhere
Legitimate organisations will NEVER ask for your important login credentials or sensitive data but there are those out there who will try.
Phishing is the fraudulent practice of sending messages purporting to be from reputable companies to make people reveal personal information: this could be credit card numbers, passwords, secret keys etc. Sometimes, phishers will even clone a website to look identical to the original in order to steal your data. So when visiting Bitpanda, make sure to check the URL looks like this:

You can click on the padlock on the left to see the website's certificate information. You should see this: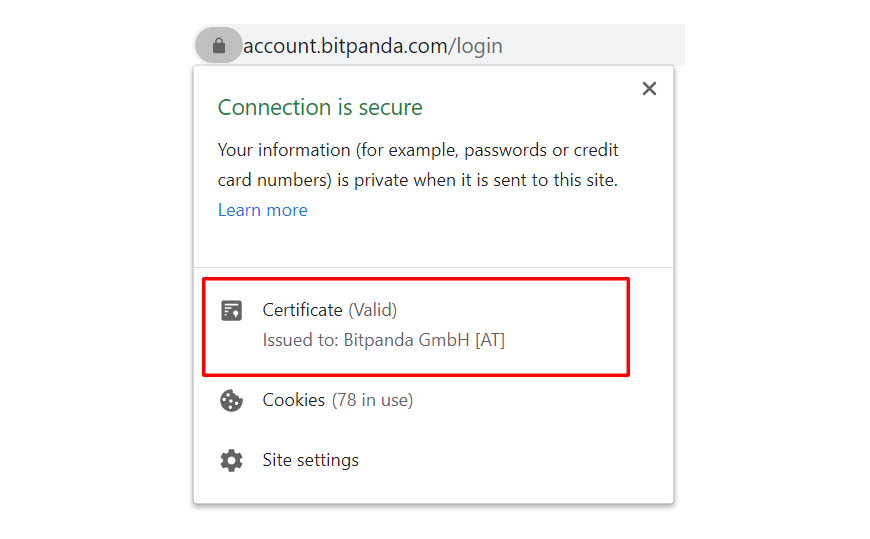 You should also be wary of questionable downloads and don't click on weird attachments or links in emails, this could well be malicious "mining" software that — at first — claims to do one thing but actually gains access to your device in the background. Once they have gained access, hackers could see what you are typing with keylogging software subsequently revealing passwords or codes. They could even potentially make screen grabs and see what you're up to.
Warning lists
Scams that are publicly known and have already been reported can be found via these links:
Be sceptical and always double check
Finally, just be sensible on the web. Make sure to stay up-to-date with the latests scams as scammers are constantly finding new ways to trick users, often going to great lengths to do so. Be cautious with every click and never disclose your sensitive data to anyone online.
Read in full on our Medium Blog.