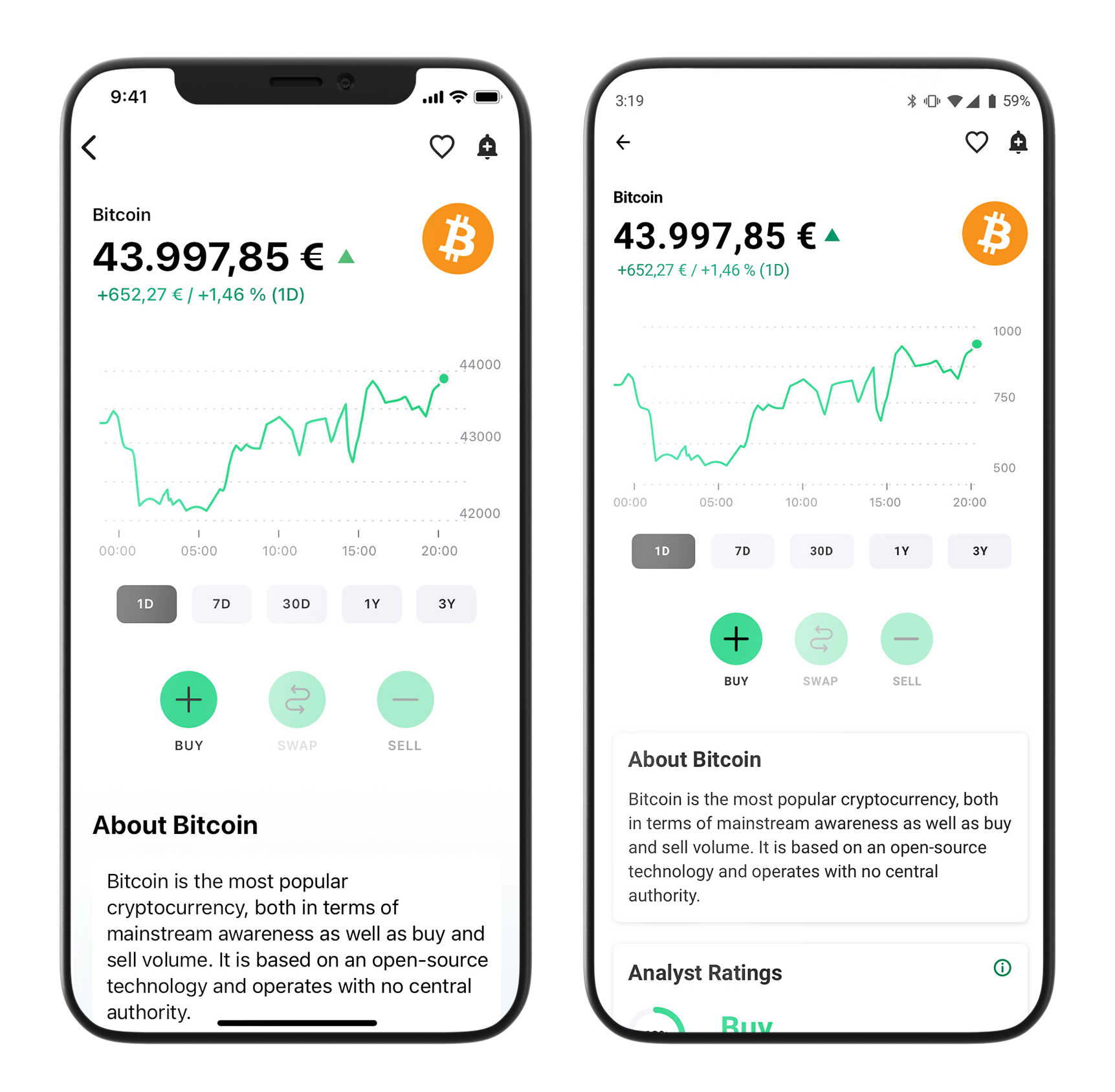 From the comfort of your phone
Our Bitpanda App offers you all the comfort you already know from the Web App. The same fast, secure and reliable Bitpanda you know. Now in your pocket, wherever you go.
Log in right away with your existing Bitpanda account
or
Learn how to create a Bitpanda account
Note: Keep in mind that only one Bitpanda account per user is permitted. If you have accidentally created a duplicate account, please contact us.
Everything you love about Bitpanda
Whether on iOS or Android, the Bitpanda app offers you everything you know and love about Bitpanda, now also on the go.
Fast, secure and reliable
Bitpanda uses state-of-the-art servers, strong API-applications and secure offline wallets. This way we are able to provide you the perfect mix between speed, reliability and security.
Buy Bitcoin, Ethereum, IOTA and more on your phone
Verify, buy and sell, swap or create price alerts on the go. Our fully automated order system is available 24 hours a day, 7 days a week.
Lowest Bitcoin premiums in the industry
With Bitcoin premiums at 1.49% (buy and sell), Bitpanda is the cheapest place for buying and selling Bitcoin instantly. Learn more about fees and premiums on Bitpanda.
Diverse payment and payout options
Deposit and withdraw money with your credit card, NETELLER, Skrill, Sofort, GIROPAY, bank transfers and more. Learn more about payment methods, limits and transaction costs.
Verify your account
Once you created an account, learn how to verify it to get the most out of Bitpanda.
Want to know more?
For more information, head over to our Bitpanda Blog posts:
Troubleshooting
If you encounter any issues with the Bitpanda App, always make sure that the app is updated to the latest version. If that doesn't seem to solve your problem, don't hesitate to reach out to us at any time.
Tip: It can happen that not all desktop features are available in both mobile apps right away. If you miss a feature in your app, please use the desktop version. We are constantly working on making all features available on all devices.
For further information on troubleshooting, you might be interested in these articles: